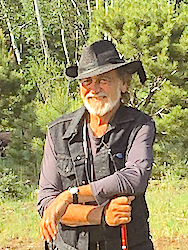 Ron Isaacson: Artist, Sculptor & Arts Educator has exhibited professionally in juried exhibitions & galleries for over 50 yrs. Over the past 25 years he has focused on creating sculptural works that incorporate recycled & repurposed materials. The most recent works from his Colorado Mountain Studio explore the nature and textures of recycled leathers.
 Unbound Leathers® documents and promotes the art of Ron Isaacson and his philosophy regarding the adaptive reuse and recycling of materials in the designing, creation, selling and distributing artwork made primarily from recycled/repurposed leather garments, furnishings and other found objects.
Recycling / Repurposing Leather
Unbound Leathers: Purchases materials from not-for-profit thrift stores supporting them in their own mission to serve and support various cause-related endeavors
Unbound Leathers: Supports community recycling and sustainability efforts by reusing materials
Unbound Leathers: Supports animal rights projects by honoring the animal that gave its life over to the original use of the hide, skin and pelt
Inspiration
The one-of-a-kind leather pieces are inspired by the textures, shapes, depth and richness of colors in the Colorado mountains.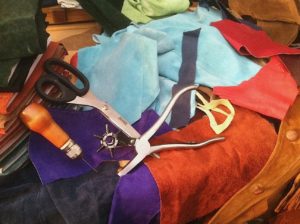 Items are made from recycled hides, leather garments and furnishings using recycled and found objects and low-e adhesives. This work is designed to celebrate the raw organic nature of the materials. Expect pieces to evolve and wear as the leathers respond to daily use, age and environmental conditions.  These art pieces can bring you as much pleasure in owning them as the artist received  from making them.
Available Artwork
Pieces pictured may have been already sold. As one-of-a-kind pieces they can not be duplicated. Similar works of equal or greater value, style and form in the "Ceremonial Feathers" series will be shipped when orders are placed.  Using recycled leathers and other found objects, these artful creations vary based on the type, colors, textures of leather and other materials available.
Commissions are accepted.
Contact: Ron Isaacson – Unbound Leathers®
Artist's Note*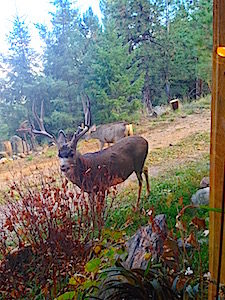 I do not condone the taking of an animal's life for commercial use. Yet, like many who believe in animal rights, I see no honor given to the sacrifice made by discarding the hide when it is no longer desired for use in it's current form. In recycling/repurposing worn, torn, faded and discarded leather I pay homage to that life.
Thank You,
Ron
*Proceeds from sales help sustain an artist's ecological art studio surrounded with Elk, Deer, Fox and other animals in the Colorado mountains. 
* Donations of recycled leathers accepted at my Colorado studio