Description
Unbound Leathers® –

Song Birds
The Song Bird Series from Unbound Leathers combines two of the  artists passions, playing the Harmonica and creating artforms using recycled leather.
Each Song Bird is one-of-a-kind and they can sing sweet melodies when you play the professionally tuned harmonica that is embedded in its body. Song Birds are designed to be removed from their perch to be played and are easily repositioned for viewing.
 Song Birds are lovingly made from repurposed leathers that are salvaged from worn leather garments & leather furnishings made from the hides of cow, deer, elk, buffalo and other animals. Other components include low e- adhesives, found objects & repurposed adornments.
Over the years you can expect your Song Bird to evolve and wear as it responds to light, heat, humidity and handling. (The Harmonica key is noted under the base)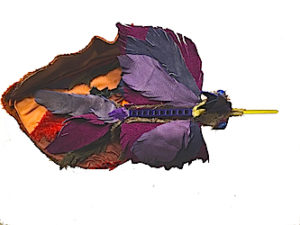 To view more artworks by Ron Isaacson visit: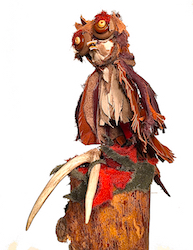 https://www.facebook.com/UnboundLeathers
Ron Isaacson 303-957-7369   [email protected]
Contact the artist for available Song Birds
Commissions accepted