Description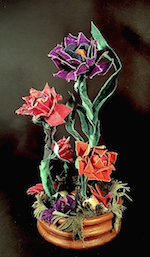 Unbound Leathers®   Forever Gardens
Crafted with love from repurposed leathers, each petal & leaf of these one-of-a-kind sculptures blends the loving spirit of nature, the symbols of renewal, rebirth & creation.
Gardens are priced from $95. and up.
Each Gardens sculpure is one-of-a-kind containing grouping of Forever Flowers, rocks and found objects attached to wooden bowls. Flowers are created on flexible wire armatures enabling people to re-position them in different ways.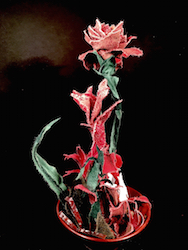 Gardens are composed of hundreds of small pieces of diverse leathers and range in width from 6″- 8″  and 12″ – 18″ in height.Expect your flowers to evolve and wear in response to light, heat, humidity and handling.
Call for current selection.