Description
Unbound Leathers

®

  

Forever Flowers
Crafted with love from repurposed leathers, each petal & leaf of these one-of-a-kind small sculptures blends the loving spirit of the animals, the symbols of renewal, rebirth & creation.
Sold individually @ $36. 
Flowers are created on flexible wire armatures enabling people to position them in different ways. You can display them in a bud vase, combine them in a grouping or bend the stems so they stand-alone. Expect your flower to evolve and wear in response to light, heat, humidity and handling.
Each Flower may compose 50-75 small sections of diverse leathers and range in width from 3-4″ and in length from 14 – 18″.
Call for current selection.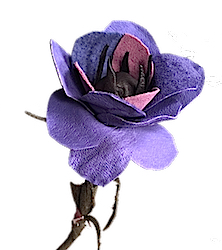 Commissions accepted
See more from
Unbound Leathers®
www.facebook.com/UnboundLeathers
Ron Isaacson
303-957-7369