Description
Priced from $150. – $450.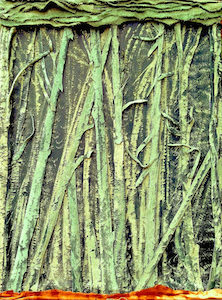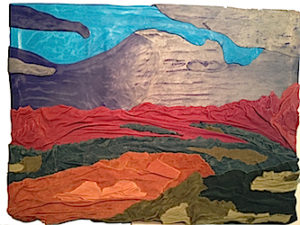 Leather Landscapes are one-of-a-kind wall pieces intended to celebrate the raw organic nature of the repurposed leather. Finished landscapes often include leathers rescued from dozens of different recycled & repurposed leathers that the artist has salvaged from worn leather garments or worn & discarded leather furnishings made from the hides of cow, pig, deer, elk and buffalo.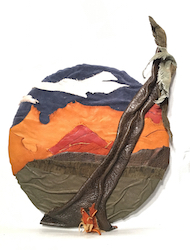 To achieve the imaging, the leather has been cut, skived, manipulated or fabricated to enhance the texture, grains shapes, colors and contrasts inherent in the hide, the original tanning/dyeing process & daily wear experienced during the leather's previous existence.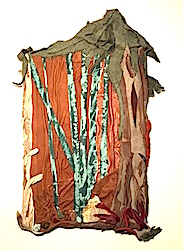 Using recycled cork boards or other found objects as a canvas, each landscape is pieced together in a time intensive layering process using low-e adhesives to bind and affix the leather. A finished landscape typically has a depth of 2-3″ and the imagery often extends beyond traditional rectangular boundaries offering a 3-D perspective to the imagery.
Contact the artist at [email protected] for images of available Leather Landscapes.
__________________________________